Podcast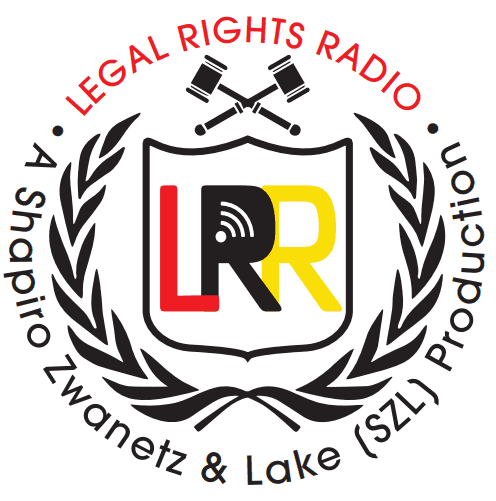 Welcome to Legal Rights Radio – A Shapiro Zwanetz & Lake – SZL production. Legal Rights Radio is a Podcast focusing on all things cops and robbers and Criminal law. From, "when the police search me?" to "I was not read my rights," LRR is a weekly show, by David Zwanetz, discussing the ins and outs of the morbidly curious area of Criminal Law in Maryland with, of course, a Defense oriented spin. We are on iTunes and Stitcher. We hope you enjoy!

​
Episode 1- Just Enough Rope to Hang Yourself
The Ins and outs of a Maryland DUI
Episode 2 - A Miranda Breakdown
"Silence is a friend that is always loyal"
Episode 3 - The Other Side of the Door
The POLICE side of the story
Episode 4 - A Primer on Stop & Frisk
Terry v. Ohio
Episode 5 - A sit-down with the Metropolitan Area's 2016 "Best Lawyers" Lawyer of the year, Jason A. Shapiro
Episode 6 - "Tales from the dark-side"
A sit-down with Danny Brannon of Right Turn/Impact to discuss drug and alcohol abuse, dependency and addiction.
Episode 7- "If I could walk 500 miles.."
A sit down with candidate for Howard County State's Attorney, Deputy State's Attorney, and Ultra-marathoner, Kim Oldham
Episode 8- A sit down with Forensic and Clinical Psychologist Dr. James Fleming
Episode 9- You Can't Deposit BUSY in the Bank! A Sit Down with Chris Haddon of Hard Money Bankers
Episode 10- The Art of Storytelling with Martin Zwanetz
Episode 11 - Revolutionizing B-Rain - It takes a village
Episode 12 - A glimpse into the mind of David Zwanetz